BUILDING CODES FOR BUILDING DECKS
Course 1 of 4
---
THE EXISTING STRUCTURE
Course Description
---
This course is the first of four parts in the Building Codes for Building Decks series and focuses on how a new deck will interact with an existing site and house. Building, plumbing, mechanical, electrical, and fuel-gas systems and codes must all be considered when designing a deck to effectively work with a home.
This course is approximately 3.5 hours and approved for 0.35 Continuing Education Units (CEU) from the International Code Council.
---
CLICK HERE FOR MORE DETAILS
Length:
Approximately 3.5 hours.
Objectives: Upon completion of this course, attendees will…
Understand the limitations of the IRC's prescriptive design criteria and when alternatives are necessary.
Comprehend the concept of a load path and how to determine the tributary load on a bearing point.
Realize the significance provisions related to the attachment of a deck ledger to a home.
Continuing Education Units: Approved for 0.4 Preferred Provider CEUs from the International Code Council (ICC).
Course Instructor: Glenn Mathewson, MCP
Code Edition(s): 2012 International Residential Code (updated course coming soon!)
Course Sessions:
Loads
Lumber properties
Exterior cladding
Flashing
Ledger Attachment
Concentrated loads
Lateral displacement
Lateral deformation
Alternative ledgers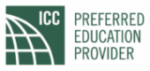 THREE ENROLLMENT OPTIONS!
---
The Existing Structure
---
– One 3.5 hr Course –
– 0.35 ICC CEU –
– Four Months of Access –
– Just $53 –
Single Course enrollment is always $15/hr.
FULL ENROLLMENT
---
– EVERY Course –
– EVERY Webinar –
– ALL the ICC CEUs –
– ONE YEAR of Access –
– ALL of EVERYTHING –
– ONLY $299 –
There is no better value for quality education than Full Enrollment. One price, one year, all the education.
Videos Only
---
– Every Course –
– Videos Only –
– 6 Months of Access –
– Just $199 –
Does not include CEUs, questions, or handouts.
ARE YOU ALREADY ENROLLED? LOG IN BELOW.