Building Code College is proud to partner with the North American Deck and Railing Association to combine education with certification

To promote more safely built decks and professionalism in the decking industry, Building Code College deck education can be complimented with professional certification. Offered by NADRA and exclusive to their members, The Master Deck Professional, Codes and Standards, Certification (MDP) represents the highest level of building code knowledge pertaining to the decking industry. Included with access to the four MDP exams, is access to the four required deck code courses on Building Code College. On top of that, the entire course catalog is included for a year, so NADRA members can take advantage of even more education. Use the buttons below for enrollment and access to the exams. Once enrolled, log in at BuildingCodeCollege and start your courses!
After completion of the following courses, and their associated MDP exams, NADRA will issue the MDP Certification to the member.
Decks: 1) The Existing Structure
Decks 2) Ledgers and Lateral Loads
Decks 3) Down the Load Path
Decks 4) NonStructural Provisions.

DECK-CODE CERTIFICATION

Master Deck Professional-Codes Certification
For NADRA Members ONLY

MDPC Certification: $300.
(four exams)

Earn your Master Deck Professional – Codes Certification! Registration provides access to all four MDPC exams, plus all the benefits of Full Enrollment at Building Code College.com for a full year! For more information

click here.

REGISTER FOR MDPC CERTIFICATION $300

2015 Update $75.
(one exam)


Update your 2009/12 MDPC certification to the 2015 IRC! Course/exam three, Down the Load Path, has been updated to include the latest IRC codes. Get access to the full course and MDPC Exam 3 -2015 for three months.


When registered and logged-in, your exam links will appear below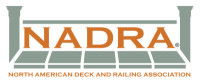 MEMBERSHIP
Learn about the benefits of NADRA membership and certification
EDUCATION
Click the button below for the course catalog