BUILDING CODES FOR BUILDING DECKS
Course 3 of 4
---
DOWN THE LOAD PATH 2015
Course Description
---
Now updated with all the new 2015 IRC provisions, this course completes the load path started in course 2, Ledgers and Lateral Loads. Decking, joists, beams, posts, foundations and even properties of the earth are covered, so that the entire structural system and related codes can be understood.
This course is approximately 3 hours and approved for 0.3 Continuing Education Units (CEU) from the International Code Council.
---
CLICK HERE FOR MORE DETAILS
Length:
Approximately 3 hours.
Objectives: Upon completion of this course attendees will…
Understand the basics of deck foundation design and construction.
Understand the variety of manufactured decking products and how to ensure their proper installation.
Realize the potential flexibility of the joist and beam span tables not obvious in the code provisions.
Continuing Education Units: Approved for 0.3 Preferred Provider CEUs from the International Code Council (ICC).
Course Instructor: Glenn Mathewson, MCP
Code Edition(s): 2015 International Residential Code (updated course coming soon!)
Course Sessions:
Decking
Decking fasteners
Joists
Joist connections
Beams part 1
Beams part 2
Posts
Foundations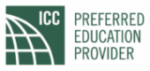 About The Course
---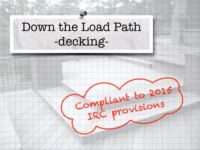 THREE ENROLLMENT OPTIONS!
---
Down the Load Path 2015
---
– One 3 hr Course –
– 0.3 ICC CEU –
– Four Months of Access –
– Just $45 –
Single Course enrollment is always $15/hr.
FULL ENROLLMENT
---
– EVERY Course –
– EVERY Webinar –
– ALL the ICC CEUs –
– ONE YEAR of Access –
– ALL of EVERYTHING –
– ONLY $299 –
There is no better value for quality education than Full Enrollment. One price, one year, all the education.
Videos Only
---
– Every Course –
– Videos Only –
– 6 Months of Access –
– Just $199 –
Does not include CEUs, questions, or handouts.
ARE YOU ALREADY ENROLLED? LOG IN BELOW.