LIVE WEBINAR SCHEDULE
– Always Presented Live! –
---
Click to learn about our Live Webinars
You Gotta Be There! for our Live Webinars, as recordings are only available for Full Enrollment members (coming soon). Live Webinars bring the full personality of the instructor and the in-the-moment feeling of a live presentation that you can't get from a recording or On-Demand Course.

About Live Webinars
GET ALL OF
EVERYTHING
FOR A YEAR!
One Enrollment
One Year
Open Access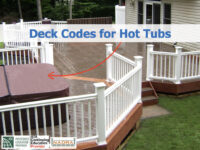 Deck Codes For Hot Tubs
---
ENROLLMENT & WEBINAR HOMEPAGE
CLICK HERE FOR THE WEBINAR DETAILS
Description:
Whether installed before, with, or after a deck is built, hot tubs have a lot of building and electrical codes that have nothing to do with connecting it to power. Does the electrician or electrical inspector understand safety glazing provisions in the building code. Does the builder or building inspector know that metal guards near hot tubs are an electrical issue? All four of these professionals, plus designers and even hot tub owners should understand the clearances required to lighting, receptacle outlets, switches, glass, service conductors, and more. Learn the codes related to the hot tub placement and the deck around it, then let an electrician take it from there.
Objectives: Upon completion, attendees will…
Learn the minimum and maximum distances and the exceptions regarding electrical equipment near hot tubs.
Discover how metal guards and other metal features of the deck can become an electrical hazard near hot tubs.
Understand the need for cross-training when designing hot tubs into decks.
Code Edition:
2021 International Residential Code
2021 International Swimming Pool and Spa Code
Length: 90 minutes.
Schedule: This webinar is presented in one 90-minute session available at two times. Enroll once – Attend either.
January 13th, 2022, Eastern time
3:30 pm – 5:00 pm
Approved Continuing Education Units:
0.15 Preferred Provider CEU from The International Code Council (ICC)
1.5 HSW LU from The American Institute of Architects (AIA)
Instructor: Glenn Mathewson, MCP. Click here to learn more about Glenn.

ONLY $23
January 13th
---
3:30 – 5:00 pm
Eastern Time