PRESENTED LIVE
BY THE
INSTRUCTOR!
LIVE WEBINAR SCHEDULE
---
Click the +WEBINAR TITLE for more details.
Click the WEBINAR HOMEPAGE button to sign up and to access the Webinar Homepage.
ONLY $15
PER HOUR OF
INSTRUCTION!
For attendee-only access to previous webinars, click the button on the right
A YEAR OF
EVERYTHING
INCLUDED
Only $299 for ALL our Webinars and Courses
January 21st
10:00 – 11:30 Eastern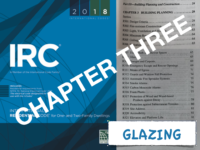 IRC CHAPTER 3: GLAZING
Description:
Windows are a necessity of every home but depending on where they are located can provide more than just natural light. Glass located in "hazardous locations" are those areas where the probability of human contact is higher. In these areas safety glazing is required to minimize injury. Where are these hazardous locations and what is safety glazing? Find out in this session that is jamb packed with glazing provisions.
Objectives: Upon completion of this course, attendees will…
Learn what safety glazing is and how to verify it is present.
Discover the hazardous locations in the code where safety glazing is required.
Understand the reasoning behind provisions related to glazing (glass)
Length: 90 minutes.
Schedule: This webinar is presented in one 90-minute session
January 21st, 2021, Eastern time
10:00 am – 11:30 am
Continuing Education Units: Approved for 0.15 Preferred Provider CEUs from the International Code Council (ICC).
Sponsor Benefit: Members of the Connecticut Building Officials Association get FREE access to this webinar. Contact your association for your coupon code before you enroll!
Instructor: Glenn Mathewson, MCP. Click here to learn more about Glenn.

---
Sponsored by the Connecticut Building Officials Association, so their members can enjoy free enrollment. Enter your coupon code at checkout.
90 MINUTES
ONLY $23