Building Codes for Building Decks
Down the Load Path
based on the 2015 IRC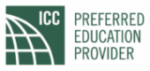 Approved for 0.3 CEU
COURSE HOMEPAGE
Course Instructions
---
Sessions
In the navigation, start with the first session

Videos
Enjoy all the session videos for free!

Upgrade!
Upgrade the course and get more! See below!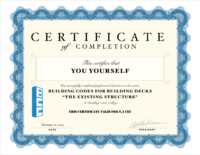 Course Videos
Self-Study Assignments
Code References
Practice Quizzes
Downloadable Handouts
Completion Exams
ICC CEU Certificates!!
GET THE FULL COURSE!
---
You have two ways to upgrade this course with more features and ICC CEU Certificates. You can select this course from the catalog and enroll only in it, or for a much better value, chose Full Enrollment. Full Enrollment gets the you full version of every course in our catalog for the next year! Ad-free, online, on-demand, real-world code education, and over 2.0 ICC CEU Certificates for one low annual fee. Click the link below to learn more.

Course Instructor
---
Hi, I'm Glenn Mathewson, the instructor of Building Codes for Building Decks. If you've got questions about navigating the online course, or the content within, send me an email and I'll see if I can help. However, I'm not accessible 24/7 like the course! If you'd like to learn more about me, visit my
instructor profile.