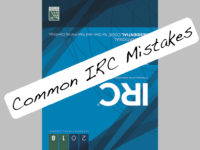 Common Residential Code Mistakes
WEBINAR HOMEPAGE

---
Approved for .15 CEUs - Click this sentence for webinar details.
Description:
There are some long-standing code provisions that just never seem to be fully understood and they're other new ones that don't seem to be catching on. This class picks out the top ten and explains in detail why they are important not to miss.
Length: 90 minutes.
Objectives: Upon completion of this course, attendees will…
…Understand the differences between fire blocking, firestopping, and draft stopping.
…Be or reminded of the nuances of stairs, guards, and handrails.
…Learn the differences between a ridge board and a ridge beam.
Continuing Education Units: Approved for 0.15 Preferred Provider CEUs from the International Code Council (ICC).
Thursday, March 26th
Pacific 12:30 pm to 2 pm
Mountain 1:30 pm to 3 pm
Central 2:30 pm to 4 pm
Eastern 3:30 pm to 5 pm
Thank you for your interest in this webinar. We will reschedule it again in the future. Please feel free to
contact us
to let us know you are interested.
If you haven't already, you can try out any one of our on-demand courses with coupon code "welcome"
---
If you had previously enrolled in this webinar, whether you were able to attend or not, you are provided one month of access to the recording.

---
PREVIOUSLY ENROLLED?
Please log in and then return to this page for the recording