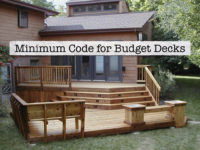 Minimum Code for Budget Decks
WEBINAR HOMEPAGE

---
Approved for .15 CEUs - Click this sentence for webinar details.
Description:
The International Residential Code is the "minimum" standard of construction. A better understanding of this minimum allows for "above code" practices to be more well recognized, but it also allows for consumers on the lower end of budget to still safely enjoy their homes. Learn some tips and tricks straight from the code that can keep basic deck construction affordable. Do you really need all that metal hardware and double-ply beams? Do you have to fill the entire hole with concrete? Building to the minimum allows more people the chance for a backyard deck and summer barbecues, and there is nothing shameful about that.
Length: 90 minutes.
Objectives: Upon completion of this course, attendees will…
…Learn what metal hardware is optional.
…Recognize the value of affordable construction and how it equates with safety.
…Discover how to utilize joist and beam cantilevers to maximize area and minimize material.
Continuing Education Units: Approved for 0.15 Preferred Provider CEUs from the International Code Council (ICC).
Thursday, March 26th
Pacific 8 am to 9:30 am
Mountain 9 am to 10:30 am
Central 10 am to 11:30 am
Eastern 11 am to 12:30 pm
Thank you for your interest in this webinar. We will reschedule it again in the future. Please feel free to
contact us
to let us know you are interested.
If you haven't already, you can try out any one of our on-demand courses with coupon code "welcome"
---
If you had previously enrolled in this webinar, whether you were able to attend or not, you are provided one week of access to the recording.

---
PREVIOUSLY ENROLLED?
Please log in and then return to this page for the recording